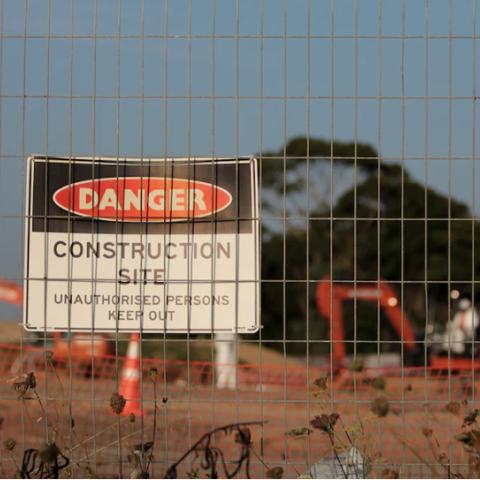 An ACT representative would welcome the opportunity to meet with you to discuss your needs and concerns. Based on that information, a scope of work could be created, shared with the client for discussion and approval. Our guards are trained in standard security protocols, customer service and the client's specific security concerns.
 ACT has provided security for multi-story remodels and ground up construction projects.
Guards perform foot or vehicle patrols in the interior and exterior of the site, overnight and weekends. If CCTV is available, guards will monitor that as well. Each patrol will be logged. Guards will have a contact list and will immediately reach out to the appropriate person or agency as needed. At the client's request, guards have worked day shifts, managing site access, contractors, inspectors and deliveries.
 ACT has provided guards for construction projects that require security due to a strike or work stoppage and understand the legalities involved.  Guards providing strike security will patrol the interior and exterior of the site to the degree that is possible.
ACT would meet with the client and determine any equipment or stock that is to be considered a High Value Target of theft or vandalism. The guard would be given a checklist and will use it to inventory HVT equipment on each patrol. Any variations or damage will result in the guard immediately reaching out to the appropriate person or agency. The guard will vary their patrols and with the client's permission, place motion alarms in sensitive areas to mitigate the risk of loss or damage.
 Our guards can contact ACT management 24/7 with a question or concern.
ACT is on a GSA Schedule. 
ACT also provides FIRE WATCH for several clients.
ACT can also provide FLAGMEN for paving or road work.
What you should know about construction security
.  "Construction sites house a variety of expensive equipment and tools, including construction trailers, specialized machinery and cutting-edge tools. It may be impractical for these items to be brought to another location for storage at the end of each working day, so they are often kept on the premises, where they are vulnerable to theft.
Additionally, basic materials containing elements such as copper can be stripped and sold for a high price, making construction sites attractive to thieves. Building projects that have reached the later stages might also have expensive fixtures and other finishes.
Construction site security officers can deter thieves passively as well as actively. A visible security presence can cause potential thieves to look for an easier target. Those who do attempt to break into the site will be stopped in their tracks by attentive security officers."
   APG, 7 Reasons Why You Need A Construction Site Security Guard, April 12, 2021